Family Support Center (FSC)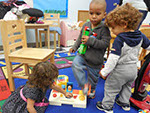 Helps families to build strong support systems and cope with life's daily struggles.
The Family Support Center is a unique program providing a non-bureaucratic, family friendly "one-stop", comprehensive center for at-risk families to increase their parenting skills, receive emotional support, stabilize their family and improve access to information and resources.
The Family Support Center Program provides support to parents who are isolated and lack social, family and peer support and benefit from an atmosphere of encouragement and acceptance. Center based services include: a place for families to receive informal counseling, and education from staff, receive information and referrals, utilize a client telephone, prepare meals for their families, and receive basic needs or emergency assistance. The Center also provides baby equipment, formula, diapers clothing and household items as well as   parenting classes, cooking/nutrition classes, adult education/English as a second language programming, socialization activities, and other self-improvement programs.
Children's services:  While the parents are participating at the center, their children can play in the supervised, developmentally appropriate playrooms with other children.
During summer months the FSC is a feeding site for the federal summer food program for children.  While families are engaging in play, trained professionals and volunteers are able to role model to the children as well as with the parents.  A critical component of the Family Support center is developmental screening, which is provided to over 400 children under age 5 on an annual basis. With the screening comes anticipatory developmental guidance to their families and referral to early intervention/medical screening when needed.
Fatherhood Initiative (FHI)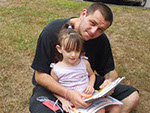 Increases positive involvement and interaction between fathers and their children.
This program was created to serve all fathers and father figures as they develop positive relationships with their children. The purpose of the program is to increase positive involvement and interaction between fathers and their children. We work with fathers to help them increase their ability to meet their parental responsibilities of providing social, emotional, medical, educational and financial assistance to their children.
Services provided include:
Individualized Attention to Meet the Specific Needs of Each Dad Involved In Our Program
Peer Groups
Educational Groups
Child Care Provided for All Groups
Court Advocacy
Referrals for Substance Abuse, Employment, Legal Assistance, and Mediation
Appointments recommended, drop-ins welcome.
Great Beginnings - Nurturing Families Network Program (GB)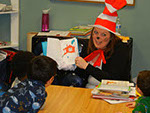 Promotes maternal and child health and fosters child development before and after delivery of your child.
Great Beginnings is a program designed to engage high-risk pregnant mothers, including first time mothers who are not eligible for other programs and non-first time mothers.  Families must enroll in our program before their first child reaches three (3) months of age. Great Beginnings also engages fathers through a fathering component led by a fathering home visitor. Great Beginnings serves families in Norwich, Griswold and Sprague.
Great Beginnings uses Parents as Teachers, an evidenced-based parent education and family support home visiting model. With this model, Great Beginnings provides pregnant women and their families with information, support, and encouragement to help reduce the risk of poor birth outcomes; as well as infant care that supports optimal child development during the crucial early years of life. Services include weekly home visits, maternal and child health and development screenings, family support, parent education, group connection meetings and referrals to other resources as needed. Participation in this program is voluntary.
Great Beginnings is a Connecticut Maternal, Infant and Early Childhood Home Visiting (MIECHV) Program.
Community Outreach Plus Education Program (COPE)
Community Outreach Plus Education (COPE) provides community outreach, and case management support services for current and new clients. COPE provides drop-in services that include assessment, case management and referrals for mental health, substance abuse disorders, educational programs, basic needs, and other supports. Care is provided with a trauma-informed focus for mental health, behavioral health, substance abuse, and/or domestic violence issues. COPE offers a proactive approach of intervention that helps prevent crisis situations.